Few days ago we received another great question about soundproofing a home theater:
Dear Acoustic Panels Art Team, I hope you can help me with new project: home movie theater in finished basement. I recently bought new house and it has finished basement. However, it lacks any kind of sound proofing. I understand that acoustic panels will greatly improve sound quality inside theater. I am curious about noise to other rooms above. Should I install soundproofing panels or acoustic blankets on the ceiling? I appreciate any suggestions!
Thank you for question and congratulations on your new home! First of all, you need to stop sound leakage. You should start with doors and windows. We don't know if your basement has any windows or "hopper windows". If you do have windows, you should cover them with acoustical sound blankets. Make sure to select acoustic blankets with grommets – it will save a lot of time on installation!
Then proceed with doors. For doors, please check another great inexpensive product: Door Buddy (noise control cover). It has double layer sound absorption material for best possible soundproofing experience:
Door Buddy will seal all cracks when the door is closed;
It will absorb the sound from the door and sound coming through it (to other rooms). It will also cancel echo and reverb.
Speaking of small windows, you have a choice of sound blankets or acoustic panels. It's depends on your budget: acoustic panel with soundproofing layer will cost $115 without print (you can choose white, grey or black acoustic panel) or $185 with your print. You can customize acoustic panel anyway you like! For example, you can print your photo, classic picture, movie poster, photo or favorite actor or actress etc. Acoustic panels with custom imprint are great investment in home movie theater because:
We're using high quality material without any chemical smell or dangerous fumes. Stay healthy in your home!
Best possible sound absorption ratings in the market: NRC: 0.98 (98% sound reduction) and STC 31. All our products have been tested by Riverbank Acoustical Laboratories in Geneva, IL
Safety first! All products are fire-resistant. Each test was conducted in accordance with Standard ANSI/UL723, Eleventh Edition, dated April 19, 2018, "Test for Surface Burning Characteristics of Building Materials", (ASTM E84). This test determines the Surface Burning Characteristics of the material, specifically the flame spread and smoke developed indices when exposed to fire.
High quality prints in USA. Prints are vivid and won't fade away!
Once you cover doors and windows, please proceed with floors. If budget allows, you can install wool carpet. Naturals fibers are best sound absorbers! Olefin is our second choice (especially for basements).
We've finished doors, windows and floor, let's proceed with walls! You need to cover as much space as possible with soundproofing acoustic panels on the back and on each side of your room. Our professional acoustic advisors are offering free consultations via phone, chat or email! We can calculate exact number of panels and acoustic blankets for your new home theater.
Soundproofing acoustic panels will reduce sound from outside and inside!
To block sound to other rooms above, you should install dropped ceiling. The good news that you can actually insert our acoustic felt panels into ceiling frames like so: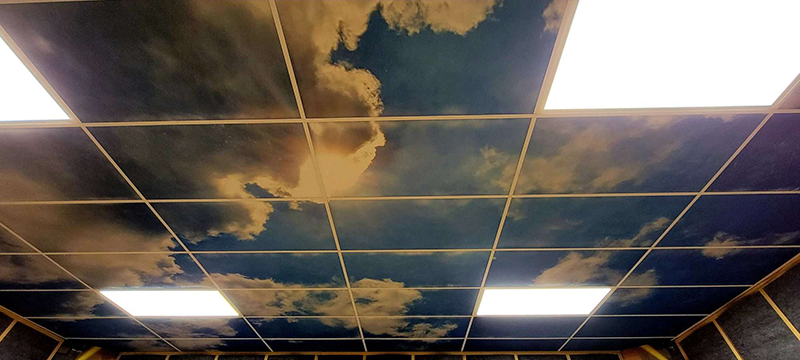 Good luck with your home movie theater project! If you have questions or need any assistance, we're here!