Whether it's a busy street, loud neighbors or birds chirping (spring time!) some sounds from the outside world are bound to disrupt your daily activities, especially if the noise intrudes when you're in a sound recording room.
While you can't shut down traffic outside, change place or tell birds to be quieter, you can block or at least reduce the noise by soundproofing windows using… yes, soundproofing acoustic panels with sound blocking layer! Installation is very easy, convenient and most importantly, window space will look absolutely fabulous, check this out: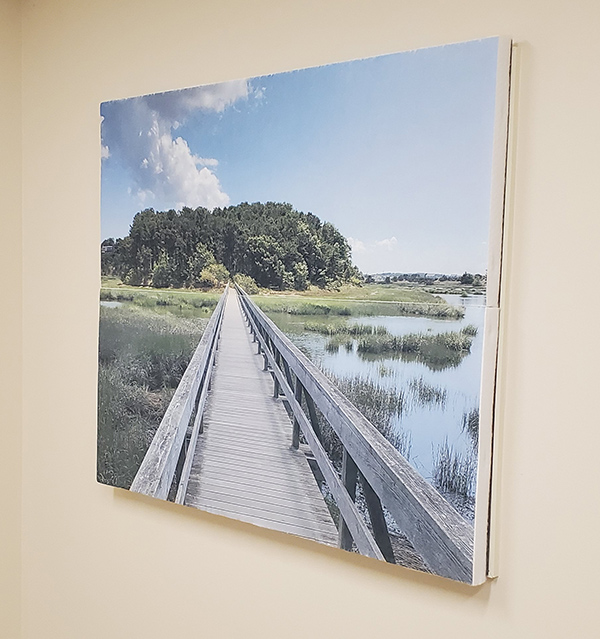 In order to cover large window opening, we combined two soundproofing panels with single image (provided by customer). If you have small window, you may only need one acoustic panel with standard size 24×48 inches.
How to soundproof any window with acoustic panels
1. Please measure window opening with frame. It's possible to install panel inside window frame, but for best possible noise control, we do recommend complete covering (pictured above).
2. Most windows will require at least two acoustic panels, but some openings are large and may require 3 panels. In any case, we can print any image from Acoustic Panels Art library or your own image across all panels. It will make one whole beautiful picture without noise control compromise.
3. If you have wooden window frame, you'll need 4 two-inch finishing nails (one for each corner). Those decorative nails with small heads are being used in various interior applications: furniture, moldings etc. For steel frames, you can attach panel with glue by applying adhesive to all 4 corners of panel.
If you need to soundproof window in home recording studio or bedroom, look no further! Acoustic panels with sound blocking layer are great for sound absorption, cancelling echo and reverb. They are visually appealing and non-intrusive. No more sacrificing appearance of your workplace in order to achieve peace and quiet. We can print images of your favorite places on these panels. It could be company Logo. Or your favorite sport team colors, country flag… We can turn a utility product into a piece of art, for your enjoyment, to promote your brand, create a comfortable and pleasing ambience.